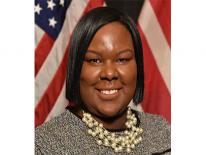 Ashley Emerson was appointed to serve as Executive Director of the Mayor's Office on African American Affairs (MOAAA) by Mayor Muriel Bowser in March of 2019. She serves as the Bowser Administration's chief advocate on policy, programs, and initiatives impacting African Americans in Washington, DC.
Ms. Emerson was instrumental in organizing Mayor Bowser's first-ever African American Prosperity Fair in 2018 where over 80 Government agencies, non-profits, small businesses, and employers who showcased opportunities and hosted workshops to over 2,000 residents. Prior to her service in DC Government, she worked in banking leading Corporate Social Responsibility. Emerson developed financial education programs for community institutions, directed 2.2 million in capital for disadvantaged small businesses, and granted $550,000 annually in community engagement sponsorships.
Passionate about community vibrancy, she served as the former Chair of Advisory Neighborhood Commission 7E. As ANC Chair, she advised Council on legislation and secured millions in additional funding for revitalization projects serving over 14,000 residents. Director Emerson is the first native Washingtonian woman to serve in her role, and a lifelong resident of Ward 7. She holds a Bachelors of Arts in Communication from Michigan State University.
Contact Information
Ashley Emerson
Executive Director
Mayor's Office of African American Affairs (MOAAA)
1350 Pennsylvania Avenue, NW, Suite 332
Washington, DC 20004
[email protected]
(o) (202) 807-0308
(c) (202) 716-5113